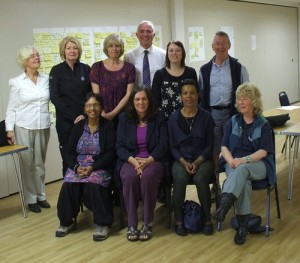 We are pleased to report that the 'field' research stage of the feasibility study we are supporting Bournville Village Trust residents with has reached its final stage – see link http://www.widerimpact.com/march-2013-wider-impact-supports-a-peer-led-feasibility.
As will be noted by this photograph, we met with key stakeholdes this week to explore key issues, and will now begin the process of merging desk (quanitative) research with the qualatitive) field research.
We remain impressed with the energy and commitment of all those involved in this important initiative.
Pleased do not hesitate to contact Wider Impact Director, Edwin Lewis at edwin@widerimpact.com if you feel you can assist with this study in any way.