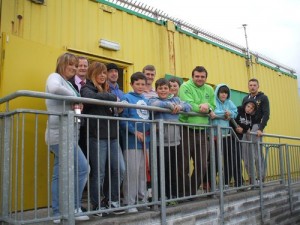 I was privilaged last week to attend a Youth Works Programme at Marlas, Bridgend, South Wales.
As this photograph highlights, Reg Denley and his Groundwork Bridgend & Neath Port Talbot team are clearly putting smiles on the faces of young people and most significantly community based volunteers.
We are looking forward to submitting our final report – see link http://www.widerimpact.com/april-2012-wider-impact-commissioned-to-carry-out-a-10-year-review-of-the-youth-works-bridgend-programme
Well done and thanks to Reg and his team!